About Us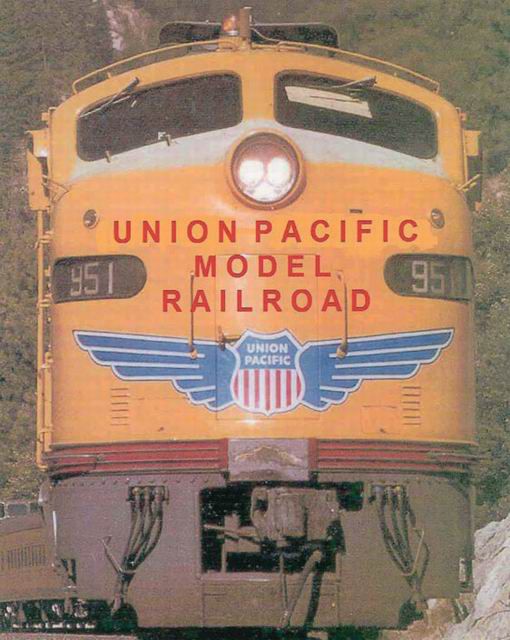 A decade in the planning and construction, the

Union Pacific Model

Railroad

, in New South Wales (NSW), Australia, is nearing completion.
The Railroad will open early 2020. Check the Availability Calendar for details.
Housed in a purpose-built train shed, with a floor area of more than 200 square metres,

UPMRR

is one of the world's largest, privately owned N-scale model railroads. Nothing like this concept is operating anywhere else in the world.
You are 'hands on'
Running full-length passenger and freight trains, with multiple locomotives,

UPMRR

is a unique

'hands on'

operating experience not only for enthusiasts but also for people wanting to learn about this exciting hobby.
And
you

,

the

Engineer, are in total control of our locomotives.
You are welcome as individuals or in groups for an experience of a lifetime, one you will want to revisit.
Here are some operational rules
Railroads operate according to rules, and UPMRR has its own operational rules for your convenience.
UPMRR

is available to responsible model-railroad enthusiasts only, on a booked and pre-paid basis.

UPMRR

is available to individuals or to groups of up to 20 people.

UPMRR

is NOT open to the general public or to children under 15.

UPMRR

is NOT a club. Privately owned trains cannot be run.
Digital operations
UPMRR
is a complete DCC (Digital Command Control) operating layout. Decoders are programmed to control single locomotives or several locomotives in a long train. (Multiple locomotives running in long trains are assigned the same code and operate as one unit.)
In addition to a vast array of rolling stock, sophisticated electronic equipment will be installed to control signalling, automatic reverse polarity, route selection, train detection and circuit breakers.
Minimal disruptions
You'll need to be a responsible model railroad enthusiast to operate on the
UPMRR
. It's not a racetrack. All locomotive decoders are programmed to run at scale speeds and with minimal disruptions.
UPMRR
's rolling stock consists mainly of high-end Kato and Micro Trains equipment, which means minimal malfunctions, and continual and enjoyable operations.
Children and model railroads
Love them as we do, children can wreak havoc on model railroads, and, therefore, the minium operating age is enforced. The minimum height of the trackwork is 1200 mm, which is suitable for adult operators.
Children will not be admitted on operating days.

However, children accompanied by adults are welcome on public open days.
Bookings and operating days
Bookings are essential and are made online. Normal operating days are Saturdays, Sundays and public holidays. However, groups, seeking weekday bookings will also be considered.
Corporate groups are most welcome, a group of 20 operators being the ideal number to ensure maximum enjoyment for everyone. You'll need to plan for your operating day, and you will need to devote the whole day.
Open days, on weekends, will be conducted on a regular basis; however, check the Availability Calendar below to ensure the open day is being held on the weekend of your planned visit.
On these days, selected, experienced Volunteers will operate the model railroad and will guide visitors in small groups to view the layout and appreciate, at first hand, the enjoyment of seeing UPMRR

in operation.
And as a result, we'll look forward to your return as an operating Engineer: yes, with YOU,

at the controls.
Bookings are not required for open days; however, an entrance fee may apply.
Location and travelling times
The

Union
Pacific Model Railroad
is located in the village of Tarago south-east of Goulburn in NSW. Countrylink operates daily train services from Sydney and Canberra, and transport is available at Tarago Station.
When travelling by car, allow 3 hours from Sydney, 40 minutes from Canberra and 25 minutes from Goulburn. For people wanting to operate for 2 days, an accommodation package, including dinner and breakfast, is available at Tarago's historic Loaded Dog Hotel. (See this option in the Bookings section).
Looking ahead, UPMRR may operate its own bus to convey patrons from Sydney. In the interim, normal modes of transport apply. Sydney patrons not wishing to drive should consider the Countrylink service from Strathfield. You will be met by bus at Tarago Station. Overseas visitors will be assisted with separate transportation (contact UPMRR).
Your model railroad operating times
You will enjoy at least 3 hours of operations on
UPMRR in either a morning session

or

an afternoon session.
Before operations begin at 10.00 am, morning tea is available and a detailed briefing given on the responsibilities of being an 'Engineer'. Operators booked for the afternoon (PM) session will be briefed during the lunch break.
At 1 pm, the conclusion of the AM session, we break for lunch. The PM session commences at 2 pm for another 3 hours of operations. Afternoon tea is available before you depart for home. Start and end times can be adjusted in special circumstances (contact UPMRR).
Imagine the excitement
A large model railroad has many operational aspects, and your
'hands on'
experience will cover most of them. Each freight and passenger train will be under the control of two operators. Each freight yard and depot/station will have two operators, as will each coal mine and utility they serve. Diesel and steam service yards will keep operaters busy as well.
In addition, other activities, such as the Railway Express Agency, Pacific Fruit Express, the Coach Yard and several small industries, will each require a single operator.
This all adds up to a fantastic day. Picture the excitement of servicing glamour passenger trains at the main terminal, Hartford Junction.
The famed 'California Zephyr' (CZ) arrives hauled by Rio Grande locos, which are switched with Western Pacific locos before the CZ departs westbound. The Rio Grande locos are moved to the servicing yard and await their return eastbound journey.
( Note. The CZ, 'Train of the Stars', ran from coast to coast across America and was operated in stages by 3 different railroads. The Chicago to Denver section used Chicago, Burlington & Quincy [Burlington Route] locos; the Denver to Salt Lake City used Denver & Rio Grande Western [Rio Grande] locos; and the final leg to San Francisco was hauled by Western Pacific locos.)
And the action continues apace, for the headlights on Santa Fe's premier train, the 'Super Chief', can be seen in the distance.
Operations are uppermost
UPMRR
is designed with operations in mind.
The mainline is predominantly single track with hidden reverse and staging loops on either end. Rising 425 mm (16¾" or 212 scale feet) over a length of more than 100 metres (at a maximum grade of 2 per cent), freight trains, even with multiple power, will make hard work of it. Timetable operations are planned to keep operating crews on their toes at all times.
Shorter trains under steam power might require a 'helper', which adds a lot of interest to operations. Coal mines and their utility customers will operate as 'empties in' and 'loads out'. Towering mountains dominate the N-scale (160:1) rolling stock, adding to the 'feel' of real distance and space. There is no 'spaghetti' trackwork on this layout.
A huge diesel-engine servicing yard, together with a 36-stall turntable and coal dock at the steam locomotive servicing facility, helps in getting locomotives ready for both freight and passenger trains passing through Hartford Junction. A large double-ended freight yard, plus a hidden staging yard, can accommodate hundreds of freight cars.
Hartford Junction the operational heart
Perhaps at this point, some clarification of the modelled era is appropriate. Hartford Junction is home to the mythical
Hartford Valley & Southern Railroad
(HV&SRR), which owns all traffic rights not only through the valley itself but also on the mountain divides on both sides.
Consequently, all the major US railroads pass through Hartford Junction and we can assume they pay for trackage rights over
HV&SRR
iron.
Fortunately, we get to see and operate all the wonderful passenger and 'hot shot' freight trains that ran from 1950 onwards. We are not rivet counters at the
UPMRR
and are prepared to 'bend' the truth a little to satisfy our whims. After all, it's all about enjoying the experience.
Sound for added realism
Did I mention sound? Well, many of the locomotives, particularly the steam locos, will be fitted with sound decoders for added realism. Nothing enhances a model railroad more than authentic sound.
Register your interest now
Now
is your opportunity to register your interest in becoming an operator, albeit a paying one, on the
Union Pacific Model Railroad
, one of the world's largest N-scale model railroads.
Jump on board the
Register Me
tab, fill in your details and begin your journey in the enthralling hobby of model railroading.
I look forward to meeting you and to sharing the
Union Pacific Model Railroad
with you.
We wish to express our appreciation to the Union Pacific Railroad of the USA for their written endorsement of the use of their name. Without doubt the greatest railroad on the planet in terms of size and tonnage hauled, it is worth noting the importance of their contribution in the history of North American railroads. From their involvement in the first transcontinental rail line, the Overland Route, in the 1860's, the Union Pacific Railroad has continued to dominate railroading to this day.